September 26th, 2021 at 08:55 pm
One of the things I've been doing is trying some new recipes. I like to challenge myself and see if I can make new stuff. I did two things this week and both I felt were a success.
One was making zucchini marmalade. A friend had dropped off some zucchini so I felt like I could experiment. The link to the recipe is found here:
https://practicalselfreliance.com/zucchini-marmalade/
The other was a buttermilk corn bread, but instead of putting it a square pan or cast iron skillet, it was baked in a loaf pan. It isn't as rich as the one I normally make, but DH pronounced it good. He must have liked it, he had three slices! Anyway, here's the recipe:
Buttermilk Corn Bread Loaf
1 1/2 cups of all purpose flour
1 cup yellow cornmeal
1 tablespoon of white granulated sugar
2 teaspoons of baking powder
1 teaspoon of salt
1/2 teaspoon of baking soda
1/2 cup of shortening
1 1/3 cups buttermilk
2 eggs
1 cup shredded cheddar cheese
Preheat oven to 375 degrees F. Grease 8 1/2 x 4 1/2 inch loaf pan. Set aside.
Combine flour, cornmeal, sugar, baking powder, salt, and baking soda in a medium bowl. Cut in shortening with pastry blender or 2 knives until mixture resembles course crumbs.
Whisk together buttermilk and eggs in small bowl. Make a well in the center of dry ingredients. Add buttermilk mixture, stir until mixture forms stiff batter. Batter will be lumpy.
Pour into prepared pan and smooth so mixture is even. Lift pan and let it hit the counter a couple of times to remove air bubbles.
Bake 50 to 55 minutes or until toothpick inserted in cetner comes out clean. Cook in pan on wire rack for 10 mintes and then remove from pan and cool on the rack for 10 minutes. Serve warm.
Makes one loaf.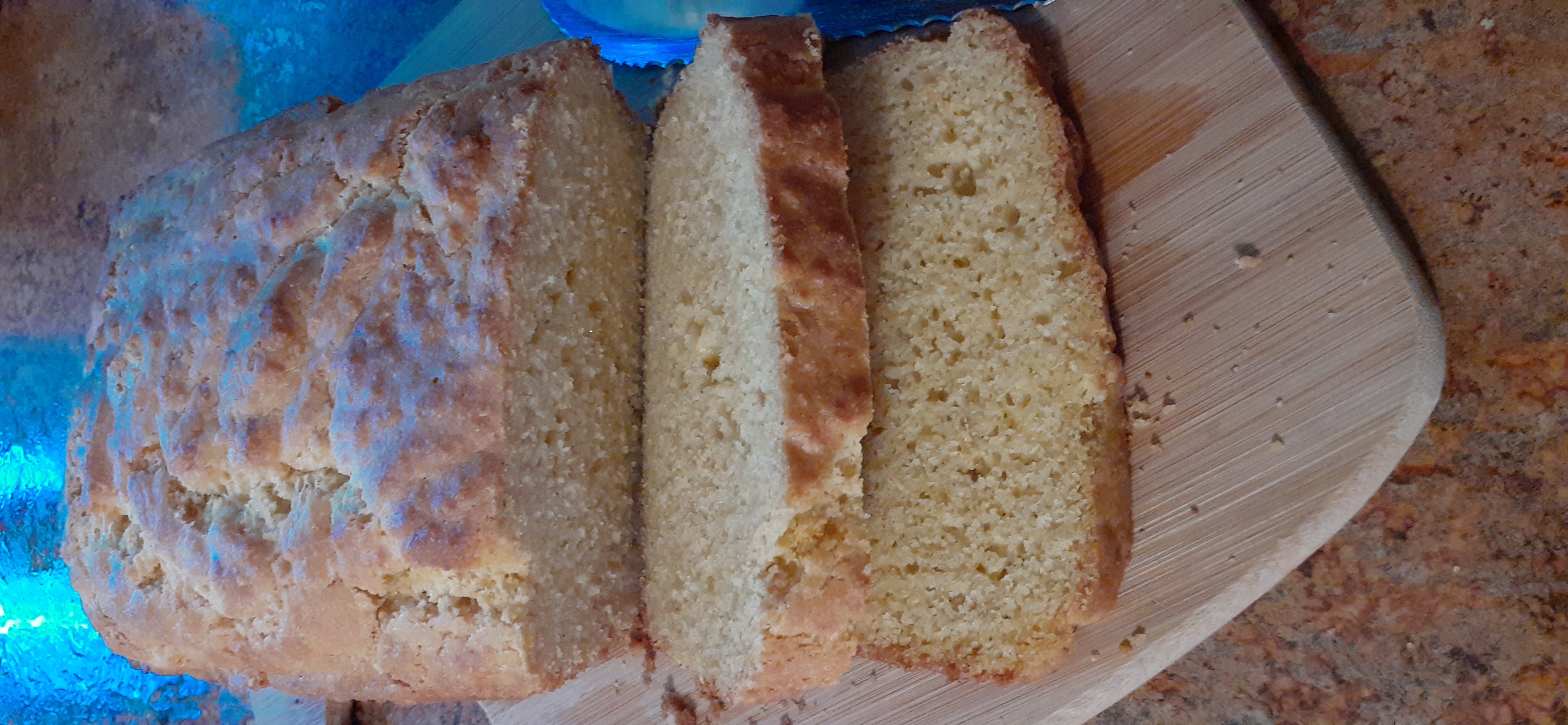 DH's 75th birthday is tomorrow. I have a cake cooling in the kitchen. We plan to go out to dinner tomorrow night and figured he might not want to have cake after a big meal, so I decided to bake it a day early. He was all over that with grins. So, after it cools, I plan to frost it. I actually doubled the recipe. A friend had her mom die overnight, so I'm putting together some food to take over to their house and thought a cake might be OK. I am using one of those foil pans so they don't have to worry about bringing back the pan.