May 2nd, 2022 at 04:36 pm
For years we saved and saved and saved. We wanted to go to England. Then when we thought we were getting close enough to do so, you know what hit and shut down the world.
We decided to start planning anyway. We didn't have passports so a little over a year ago we did all the necessary stuff to get them ordered. We received them a year ago this month. We then went to a travel agent to discuss what we wanted to do. Neither of us have ever been out of the country so we wanted to go with someone who knew far more than we. We made our wish list. We didn't want to go with a tour company because we didn't want to go to Ireland or Scotland or Wales in addition to England.
I wanted to go to Manchester because my dad's paternal side lived there in the late 1880s. I had Googled the address and the house is still around. I Googled the address of the restaurant he ran before having to file for bankruptcy and that building was also around and being used as a jewelry store. I wanted to see these places and see the city where they lived before immigration.
DH and are big fans of the series, "All Creatures Great and Small" so of course Yorkshire was also on the list.
Then, of course, London. We emailed back and forth with the travel agent...instead of 7 days total, could we bump it up to 9 so we'd have 7 days to see things? We discussed it and said yes.
So, the Monday after Easter we started our journey, our trip of a lifetime. We were excited and scared at the same time. We had a written itinerary from our travel agent who had worked with a travel agent in England. It was very organized.
After the many hour plane trip across "the pond" we landed at Heathrow. We then made a connecting flight to Manchester. I sat at the window of the plane and at my first glimpse of Manchester from the air, I'll admit it, I became teary. No one I know in the family still lives there, but it was unbelievable that I was going to be there. We were met by a driver who had our names on a card at the airport who drove us to our hotel. Talk about feeling like we were important! We stayed at a very nice hotel, walked around the first night, and the second day took a taxi and in 77 minutes saw both the house and the building the restaurant had once been housed in. We also saw some parts of Manchester before being dropped off and walking around a downtown area. We had afternoon tea at the hotel. And it was all good!
Here is the photo of us in front of the house: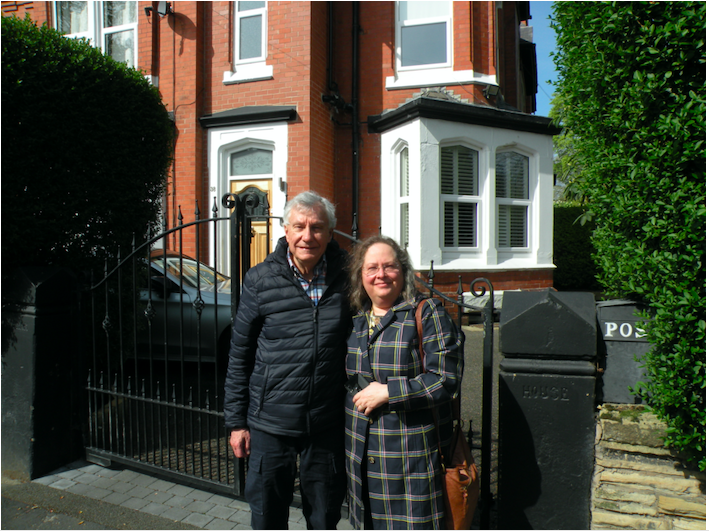 The third day we took a train from Manchester to York. Finding the right platform was a bit of a challenge -- you have to either climb stairs or take the elevator or lift and go down and come back up, but we succeeded, found the right train, and could sit back and relax and watch the countryside. We walked to our hotel, left our bags, and was met by a driver/tour guide who took us around Yorkshire. We visited Thirsk which is made famous by James Herriot and visited the house/vet office. We had a lovely lunch at a wonderful place called "Upstairs Downstairs." DH and I shared a sandwich which was huge and included a small salad and coleslaw. And the tea! It was delightful. DH loved that they offered both brown sugar and white sugar and he has taken a shine to the brown sugar in his tea. We were then driven through many small villages, shown the ruins of the Bryland Abbey, and saw the lovely pastoral countryside.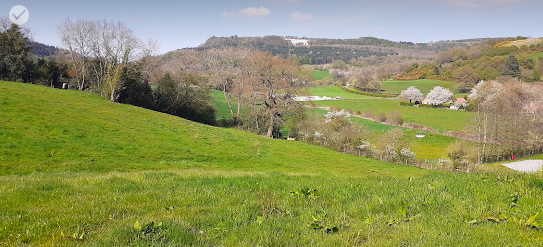 Our fourth day we took a train to London and had a fancy hotel near the Palace. We had afternoon tea at the hotel and more wonderful tea as well as sandwiches and sweet treats. A Blue Badge guide met us at the hotel and we did a walking tour. We saw Westminster Abbey, Parliment, St. Martin in the Fields, St. Paul's Cathedral, amongst other things and she dropped us off at the Tower of London. We had a private tour of the Tower of London and the Crown Jewels. It was delightful that the three guides there, one for outside, one for inside, and one for the actual jewels loved their jobs and sharing their knowledge.
On our fifth day we took a bus tour to Windsor Castle, Stonehenge, and Oxford. The tour guide was a man after my own heart; after teaching here all these years and he knew how to guide and give us hints for the easiest and best way of doing things. It was a long day, but it was interesting seeing all the grand things at Windsor, then wondering how Stonehenge was built, then going into what is considered academia of Oxford. DH loves the Inspector Morse and Inspector Lewis series so it was wonderful to be able to walk around Oxford and recognize some of the scenes we had viewed.
On our sixth day we started with the Changing of the Guard at Buckingham Palace. I was amused that the band played music from "Mary Poppins" for this. This was pretty neat to see all the pageantry and tradition. As we stood by the fence, a family came up and we started talking. They were from Albany, NY, and this trip was a birthday present for their 12 year old. We talked about the best places to get our Covid tests in order to return to the U.S. We were fortunate, there was a testing site almost across the street from the hotel and we could make an appointment. They asked how much was it and I said 23 pounds each. They said the airport charged more as did the pharmacy -- the pharmacy was asking 60 pounds each and there was 4 of them. So, they were delighted to learn of the place we had an appointment with. Then there was a couple next to us on the other side and they were from Charleston, S.C. and we visited with them as we waited as well. That really was nice. They were there on a whim -- decided to hop a plane and come and see the sites.
After the changing of the guard, we went to a 3 course lunch at the Game Bird at the Stafford. I felt like I was rich. We were waited on and served such delicious food and treated so well. We had three types of salmon that was thinly sliced served with toast. It was sliced in front of us. Then they brought out this beautiful standing beef rib roast and it was sliced in front of us and we were served roasted potatoes, roasted carrots, broccoli, cauliflower casserole, and Yorkshire pudding. Dessert was a small oval of ice cream and this type of cake ball which had a hard chocolate shell. This is an aside, but there were two other couples who were seated next to us. They came in slighty after we did. I guess we have Midwestern Manners becasue we looked our servers in the face and thanked them repeatedly and asked questions. These two couples treated the servers with aloofness. I noticed that we received the best service of the three of us, and I looked at the roast beef that was served to the table next to us, and we most certainly got the prime pieces compared to what they were brought. I guess I'm not too proud to be nice.
Next we went to Westminster Abbey for Evensong. England is 6 hours ahead of us in Central Illinois so at 3 p.m. in London, it was 9 a.m. back home and our brothers and sisters at Mt. Calvary Lutheran were having church at the same time. It was most certainly a wonderful service. The choir and cantor were amazing and that pipe organ! The choir master knew how to use the acoustics and would have the choir end in such a way that the last note would reverberate off the walls for a delightful effect. We walked back to our hotel and discussed what a fabulous day it had been.
Lunch at the Game Bird: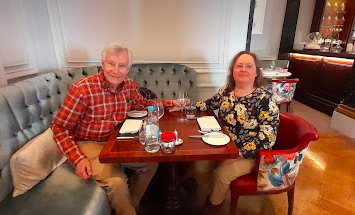 Our last day was busy with getting Covid tests, touring the Japan exhibit at the Queen's Gallery, and then walking tour of the sites that were Beatle related. We visited the building the Beatles had owned and did the rooftop concert in a very fancy men's clothing district, saw the Abbey Road studios and had our photo taken crossing where the Beatles crossed. Our last evening in London was a dinner cruise on the Thames River. It was fabulous seeing London at sunset and then the lights as it became dark.
Our crossing Abbey Road: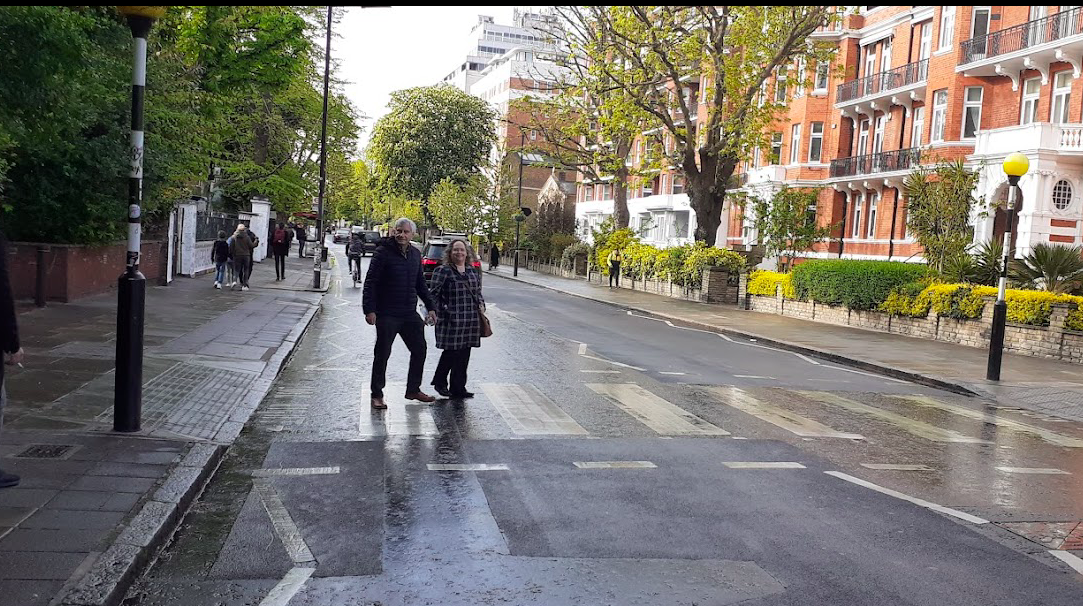 I know we often discuss how to save money and investments and all that, but we did not scrimp on this trip. We spent a lot. We did a lot. Am I sorry? Heck no. All those coupons, all those rebates, all those leftovers, all those times I made do, it was a way for us to be able to fully fund and pay for this trip and not go into debt.
My only regret -- the Queen didn't invite us to tea! But, we were told she wasn't in London when we were there. OK, I'm kidding about the tea invitation, but it truly was a trip of a lifetime!